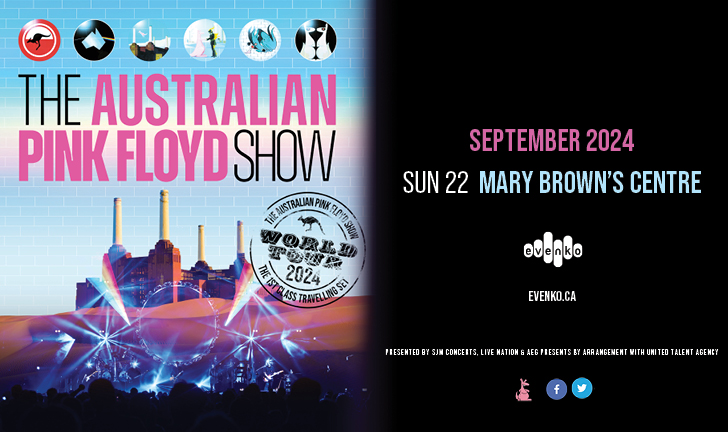 The Australian Pink Floyd Show
PRICE
Tickets range from $44.50 to $79.50, including tax, plus surcharge.
Selling over 4 million tickets worldwide and described by The Times as "The Gold Standard" and The Daily Mirror as "The Kings of the Genre", The Australian Pink Floyd Show gave its first ever concert in Adelaide, Australia in 1988. Since then, they have performed in over 35 countries worldwide; played at David Gilmour's 50th birthday celebration and were even joined on stage by David and Rick Wright. TAPFS is the leading show of its kind in the world.
Performing the music of Pink Floyd with note for note perfection, this critically acclaimed show has been astonishing audiences worldwide for more than three decades. Always striving to reproduce the complete Pink Floyd experience and bring the music to new audiences, the show continues to include a stunning light and laser show, video animations, state of the art, high resolution LED screen technology and other special effects. In addition and in true Pink Floyd fashion, there are several huge inflatables including a giant pig, and their own unique Pink Kangaroo.
They have worked with Pink Floyd touring musicians like Guy Pratt and Durga McBroom. Lorelei McBroom, who was a member of the Pink Floyd touring band on both the Momentary Lapse Of Reason and Delicate Sound Of Thunder Tours has been a member of TAPFS for 10 years.
Often described as being much more than a tribute band, The Australian Pink Floyd Show is the first Pink Floyd tribute show that took the concept into the worldwide arena circuit. The band has played to sell out audiences throughout Europe, UK, America, Canada & South America.
With over 35 years of history, the world's biggest, best, and greatest Pink Floyd tribute show continues to delight its global fan base.
From its humble origins in the bars & clubs of Adelaide, in recent years the band has become a truly international affair, with band members from Australia, the UK, France and the USA.
"Setting the gold standard" – The Times
"For the record TAPFS are a phenomenon to be witnessed live… It's almost enough to make you forget you haven't been watching Pink Floyd, but a surrogate band" - Prog
"Probably the most popular tribute band in the world" - Sunday Times 'Culture'
NEW FOR 2024
The 2024 Australian Pink Floyd Show tour will bring to the stage the songs that mean so much to Pink Floyd fans all over the world. State of the art lighting and video, pinpoint lasers, huge inflatables and flawless live sound that was the benchmark of Pink Floyd shows, TAPFS guarantees to deliver a memorable live experience for audiences old and new.
Replicating music from every phase of Pink Floyd's journey, this tour reinforces TAPFS's dedication to the heritage of Barrett, Waters, Gilmour, Wright & Mason with a show that pays sincere and genuine tribute to those legendary Pink Floyd productions.
2024 BAND LINEUP
David Domminney Fowler – Guitar & Vocals
Paul Bonney – Drums
Luc Ledy-Lepine – Guitar
Ricky Howard – Bass & Vocals
Chris Barnes – Vocals
David Parsons – Keyboards
Alex Francois – Saxophone
Lorelei McBroom – Backing Vocals
Lara Smiles – Backing Vocals
Emily Lynn – Backing Vocals
Tickets range from $44.50 to $79.50, including tax, plus surcharge. Tickets go on sale Friday, November 17, 2023, at 12 noon. Tickets are available at our Box Office Monday – Saturday, noon – 5 pm, by phone at 709-576-7657, or online at mbcentre.ca. For accessible seating, please call our Box Office at 709-576-7657.
VIP Soundcheck Package for $219 including tax, plus surcharge. VIP tickets go on sale Tuesday, November 14, 2023, at 12 noon.
Includes:
One premium reserved ticket
Early entry into the venue
Access to a preshow soundcheck with The Australian Pink Floyd Show
Intimate Q&A with members of TAPFS
Specially designed TAPFS strap back hat
Custom TAPFS patch set
Official VIP soundcheck laminate
Limited availability.
PRICE
Tickets range from $44.50 to $79.50, including tax, plus surcharge.
---
FEATURED EVENTS